Wind Power LAB blade data services offer blade defect analysis, repair recommendations, and AEP loss estimations among other advanced analysis themes.
Each of these services are formulated utilization inspection data – imagery, video and/or available SCADA information. From our defect analysis we build repair recommendations based on data and experience. Our team create blade maintenance strategies to help asset owners/managers by proactively fusing in accurate blade defect assessments as decision points.
All defect analysis data, repair recommendations, and other blade services, are available for our clients – online – through our Wind Diagnostics platform.
Inspection Data Processing
When imagery, video content, and/or SCADA data from field inspections have been uploaded to the WPL cloud, data processing begins. We determine distances, measurements, investigate defects, annotate properly, and determine the severity of all blade anomalies. The quality of the inspection data is of vital importance in order to turn the received information into actionable decisions. With that being said, our team has explored and investigated the majority of all market available inspection solutions. WPL can intake RAW data or reports from the majority of inspection methods and systems available today. We regularly continue these efforts as solutions arise.
The ultimate objective is to ensure WPL are a hub point in the market to enable the intake of data from many sources.

We pride ourselves in offering the best available solution on the market for accurate and insightful blade analytics. Through delivering our intuitive solutions to our ever-growing client base, we are able to adapt to industry needs and maintain a host of blade expertise to do so.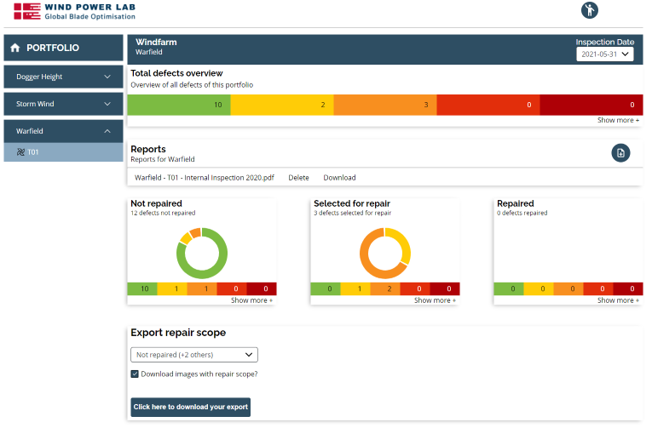 Based on field data from any source, our defect analysis is individualized within our market segment.
WPL have the ability to work with data from any source: drone, ground-based, rope access, you name it.  All imagery, video content, and associated metadata are processed, pixel by pixel. Blade defects are identified via our bespoke processing method, with locations on blade and severity categorization added within the process. Our team of blade experts adhere to the stringent processes to perform QC checks on all the preliminary data analysis, blending in their individual specialist knowledge, to enrich the blade defect data analysis.
All inspection data is reviewed by experts in their individual specialty – lightning, AEP, Leading Edge, structural/fatigue issues, etc. This further demonstrated how WPL's premium service offering, sets them apart from the competition.

We offer AEP loss estimation as an added service for asset management decision making.
AEP loss estimating can aid in decisions around Leading Edge maintenance and/or investing in LEP solutions. Is the loss from leading edge erosion great enough to warrant investment in an LEP solution from a production and blade integrity point of view? Our AEP loss estimate will provide the accurate analysis for your asset management decision making. We can help with the strategy around those difficult ROI decisions as well.
Based on our data analysis, we factor in the timing of blade repair work, in relation to every single identified blade defect.
From these insights, your asset management strategy gets timing and scope definitions based on accurate blade defect data. This is fundamental in your next technical asset management strategy. Fix what you need to – when you need to – whilst feeling confident with your OPEX spend, by applying data driven decisions.
Blade Maintenance Strategies
Building on data driven blade repair recommendations, a blade maintenance strategy can be established. With a forward-looking approach regarding inspection planning, repair and retrofit; lifetime expectations will be curated for your specific wind farm. The blade maintenance strategy is your technical asset management plan for operating your wind farm – from a blade specialist perspective.
Online Blade Diagnostic Platform - Wind Diagnostics
All blade assessments, repair recommendations, and timings are added to the WPL blade diagnostic platform; Wind Diagnostics. From here you get online access to inspection data, data analysis, repair recommendations, and have the ability to download your repair scope. You can use Wind Diagnostics to plan your next repair campaign and keep track of your repair execution.
The WPL team are regularly updating the capabilities within Wind Diagnostics based on client input. As of late, we have added a self-service option for users to upload historical or newly acquired inspection data of their own if desired. New developments are always coming – stay tuned!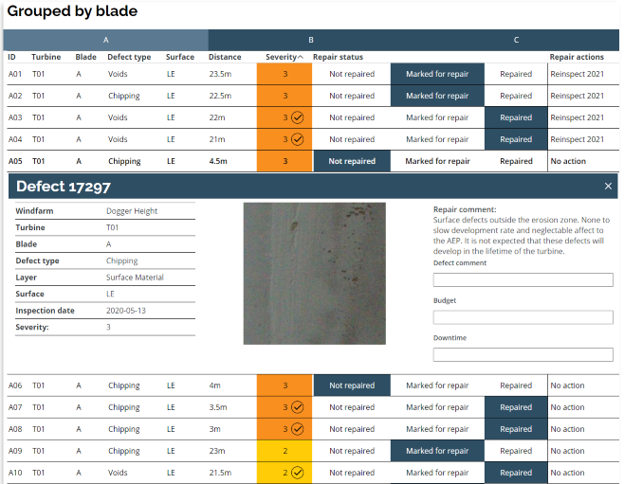 "Analyzing the history of all inspection data and repair campaigns at PAWP, Wind Power LAB was able to create a very detailed defect development trend analysis that was built into the Blade Maintenance Strategy. This service provides us with a full overview of assumed events and expected blade repair scope of the Windfarm. WPL has great blade insights and delivers high quality in their work. After handover of the Blade Maintenance Strategy, WPL has shown their dedication and professionalism in providing us with further insights and support us in our decision making and implementation a Blade Maintenance Strategy"
"I have found WPL to be very collaborative in looking to help solve customer blade issues. This includes using WPL resources along with those of their partners. In working with WPL, they have shown that they are open to new alternatives and innovations which benefit their customers."
"We have found the services provided by Wind Power Lab to be excellent. They have fast turnaround times, and the reports are very complete and insightful. The online platform is very useful. They provided value beyond other services that we have used in the past, great customer service."
"Wind Power Lab really shines in their ability to correctly diagnose the most complex blade issues, then leverage the best technology and professionals to get them resolved quickly. We are proud to partner with WPL because we've seen first-hand their commitment to their customers, and the deep expertise they bring."
"WPL provided us with first-class root cause analysis supporting our handling of complex claims. With their support we have been able to increase both quality, value of our claim handling and loss adjustment services."
"WPL deliver 2nd opinion on our inspection data. WPL has deep blade knowledge and creates high value for our maintenance by helping us identify active blade risks, avoid expensive repairs and costly down-time on our turbines."
"The service has been completed to our full satisfaction. It is highly recommended to other wind farm investors all around the world."
Wind Power LAB is a Danish company, founded in 2016 by a passionate group of wind power industry professionals. Our team of experts based in Copenhagen offers market leading expertise related to blade risk management. Our goal is to deliver the best available and robust solutions to empower our clients with the ability to make decisions to optimize their asset performance.