Data Collection and Investigation
Secure relevant asset data with our Field Services, to support establishment of commissioning baselines, defect assessments and repair recommendations, repair scope decisions, and data driven asset management strategies.
Our Field Services can also document blade integrity at factory, pre-commissioning, and forensic investigations relating to blade failures, insurance claims, and due diligence activities.
Internal and External Blade Inspections – A Complete View of Your Asset
The need for a holistic view of your wind turbine blades is critical to making proper decisions about maintenance and repair operations. An operator can sleep better at night understanding that they are in control of developing blade risk.  Inspections can be reactive or proactive, and WPL targets the latter, with proper planning to support your operations safely, efficiently, and in the most cost-effective manner.
WPL uses in-house technicians, third party providers, and the client's own inspection data collection to achieve:
Identification of internal and external blade defects eligible for repair
Input for blade repair campaign planning scope, duration, and urgency
Overview of defects and blade risks on turbines, highlighting mitigating actions
Documentation of areas inside blades that are not possible to reach with technicians
Superior data coverage, as all surfaces are inspected
Gain a complete view of the condition of the existing blade assets
Enable control of current and developing blade defect risk 
Motivation of accurate repair scope utilizing high-quality blade defect assessment and repair recommendation data 
Avoid unnecessary lost production due to too broad repair scope, reducing downtime
Better future planning and blade defect risk mitigation 
Provision of tools and knowledge for controlling the repair process 
Improved HSE focussed internal drone inspections – this method is completed without entering confined space 
Improved HSE focussed external drone inspections – this method does not expose personnel to rope access risks
Internal Blade Inspections
Some blade defects are only visible on the inside of a wind turbine blade. As a result, internal blade inspections will have to be carried out to identify delaminated areas, flash overs, and other defect types. Classically, internal blade inspections were carried out by teams of technicians holding confined space certificates and specialized training. The HSE, efficiency, and advanced accuracy alternative, is drone based internal blade inspections.  This methodology provides greater data coverage, and documentation of all internal blade surfaces and joints that are accessible – down to 50cm diameter. Wind Power LAB offers internal blade inspections as part of our Field Services.
External Blade Inspections
WPL enables our clients to collect external inspection data in the method that best suits their operational strategy. Our in-house specialists can collect data for you, or Wind Power LAB can build scopes and act as a lead with trusted external inspection service providers. We have scoured the market to align with the best options we can find – depending on geographic location.
Some of our client's self-perform external blade inspections utilizing drones – when they have time and resources available. We support our clients in planning the work and increase their capability in obtaining the best possible imagery and video materials. Our clients then upload data onto our cloud platform for processing where we turn the inspection images into repair work orders and OPEX budgets, supporting our clients in executing data driven asset management strategies.
"I have found WPL to be very collaborative in looking to help solve customer blade issues. This includes using WPL resources along with those of their partners. In working with WPL, they have shown that they are open to new alternatives and innovations which benefit their customers."
"We are provided with more precise blade defect assessment material prior to the repair season, handed over to us through great customer service in a way where we were directed to relevant blade issues to prioritize. This enables us to challenge and alter our planned blade repair scope and organize our maintenance and repair execution much more effectively."
"WPL deliver 2nd opinion on our inspection data. WPL has deep blade knowledge and creates high value for our maintenance by helping us identify active blade risks, avoid expensive repairs and costly down-time on our turbines."
"WPL provided us with first-class root cause analysis supporting our handling of complex claims. With their support we have been able to increase both quality, value of our claim handling and loss adjustment services."
"Wind Power Lab really shines in their ability to correctly diagnose the most complex blade issues, then leverage the best technology and professionals to get them resolved quickly. We are proud to partner with WPL because we've seen first-hand their commitment to their customers, and the deep expertise they bring."
"We have found the services provided by Wind Power Lab to be excellent. They have fast turnaround times, and the reports are very complete and insightful. The online platform is very useful. They provided value beyond other services that we have used in the past, great customer service."
"The service has been completed to our full satisfaction. It is highly recommended to other wind farm investors all around the world."
Transportation damages are expensive and occur when blades are transported from factory to installation site by truck, vessel, and lifted up for installation. Blade transportation damages can be severe and have an impact on turbine blade integrity as early as the commissioning stage. It is recommended to establish a commissioning baseline for blade defects present, in order to track and document any developments in the initial operating years.
Enabling blade integrity and performing an overall quality check of blades before leaving factory will ensure that manufacturing issues are caught at an early stage. This can give you peace of mind and the relevant documentation to keep all stakeholders informed before your blades are transported to site.  Our QA/QC services ensure the commissioning of blades is completed to the highest possible standard, ensuring optimum blade longevity, whilst avoiding post-commissioning blade repairs of production related defects.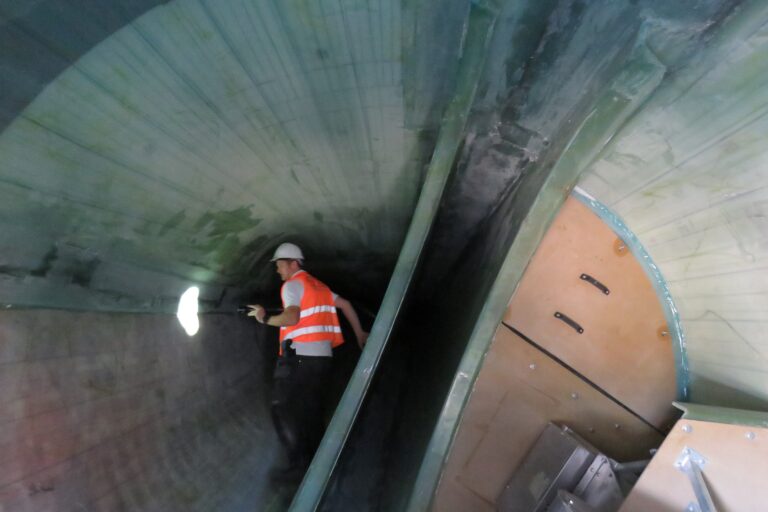 Wind Power LAB is a Danish company, founded in 2016 by a passionate group of wind power industry professionals. Our team of experts based in Copenhagen offers market leading expertise related to blade risk management. Our goal is to deliver the best available and robust solutions to empower our clients with the ability to make decisions to optimize their asset performance.